Software
The people behind '3Dice Casino' made a choice to not run their casino on one of the big-name software's such as Microgaming or RTG, but instead opted to have their software custom developed (known as proprietary software). This entailed licensing a state of the art '3D engine' and hiring a software developer from Blizzard, the company responsible for such popular multi-player games as World of Warcraft and Diablo, just to name a couple. Years of development have gone into this unique and exciting casino software, and it shows in the final product, and the player experience.
3Dice Casino recently received certification of their RNG (Random Number Generator) by iTech Labs, which should assure all players that their games are indeed random and safe. The certificate can be viewed by clicking on the iTtech Labs logo on the bottom of 3Dice's Home Page or here.
Welcome Offer
Casino Games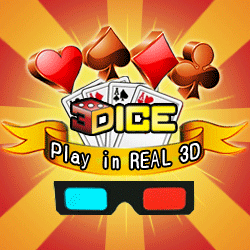 Each and every game at 3Dice Casino offers something that you won't find at any other online casino.
The graphics to each and every game are original, and eye-popping. What really makes 3Dice software stand out from the rest of the pack, however, are their Video Slots. At present, there are 12 video slots on offer, but plans for more are in the works. You won't find any "clone" games here. Each and every new slot released is original and unique, and while it may take a little longer in between new games being released, the wait is well worth it. The latest addition to the 3Dice slot stable is a game called Stick Shifter, which places the player into the cockpit of a Formula One or Grand Prix racecar.
Three or four scatters will trigger the free spin bonus round, wherein the player gets 20 or 40 free spins respectively, starting in first gear or a 1X multiplier. Each time you hit the stickshift symbol during the free spins, you shift up a gear, and an additional 1X multiplier is added, along with another ten free spins. Be careful though, if you shift up while already in sixth gear, you will blow your transmission. The cockpit will fill with smoke and burning embers, and your bonus round is over. This is a game that has to be experienced to appreciate it, and it is about as close to a true "virtual" experience as you will ever find while playing a slot machine, especially online.
3Dice also offers a great selection of table games, card games and Video Poker, a 3D Keno game and a five-game suite of 3 reel progressive slots, with multipliers ranging from 2X up to 25X, dependent on which game you choose to play. The 3 reel progressive slots are very similar to the ones you see in many land-based casinos.
3Dice Tournaments
In addition to playing for real or play money at 3Dice Casino, they also offer a tournament mode, and give away close to $15,000 each and every month to players. The tournament wins carry a reasonable 10X rollover requirement, and there is no max cashout on any winnings generated from tournament wins. The tournaments run 24 hours a day, 7 days a week and there is a variety on offer. They range from free play for those trying 3Dice Casino for the first time, to VIP Tournaments for those players who deposit at 3Dice on a regular basis.
Banking Transactions
After the UIGEA was signed into effect in 2006, the list of reputable casinos available to USA players, really started to dwindle, and this is truly where 3Dice have made their mark. They have chosen to remain available to USA players, and have done it admirably as a USA Friendly casino.
They offer a wide range of payment and withdrawal options, for both the US player and players in other parts of the world as well. For those lucky enough to be able to use options such as Neteller and Moneybookers, withdrawals (in most cases), are instant. Other withdrawal methods (i.e. OKPay, etc.), if not processed instantly, are usually within a few hours.
They also offer check and bank withdrawal, and again with these methods, the payouts are done in a timely manner. With all the problems that other casinos seem to have with paying US customers, 3Dice Casino has taken the lead and shown that it can be done and done quickly.
3Dice Zeitgeist
One of the biggest complaints that players seem to have with online casinos these days is a lack of transparency, especially when it comes to current payout percentages of games, or RTP. 3Dice Casino has once again taken the initiative here with a page devoted to current payout statistics, payouts over previous periods of 30 days, 60 days, etc.
The page lists each and every game on offer, as well as detailing their most popular games, big wins in recent days, who's winning, etc. They call this their 3Dice Zeitgeist. The page also works in real time, and updates with current stats every ten minutes. This is a feature you won't find at any other online casino.
Players Loyalty Club
All that is required to maintain VIP status is a $50 deposit every 30 days. There are four VIP levels (Player, Bronze, Silver and Gold). Each of the "colored" levels has a star rating system, ranging from one star to five. Your monthly rewards and offers (no deposit and match bonuses) are based on your VIP level, and accordingly, the higher your level, the bigger the rewards. What is unique about the 3Dice Casino loyalty system is that it's not based solely on deposits, but on your play through each ten-day period. The more play you generate, the higher a star rating you will achieve.
When Christmas time, Halloween and Easter roll around, expect 3Dice to roll out their customized lobby, which comes complete with Santa dropping random gifts, pumpkin scratch-cards or Easter eggs with gifts hidden inside. Also, rest assured that 3Dice is not the type of casino that forgets about their loyal players on special occasions such as Birthdays and Christmas. Loyalty at this casino is recognized big time, and it is rewarded appropriately!
Player-2-Player Chat Facility
In addition to their unique games and software, 3Dice Casino has implemented an interactive gaming experience by having a player-to-player chat facility, so that players can chat with each other while playing their favorite games. The chat facility also always has a CS rep online at all times (24/7), so should any problems arise, there is always someone available to assist. The 3Dice software also has a built-in radio/audio player, and their own DJ's (Spazz Radio) available on chat to take requests.
Customer Service
Besides the unique games, the interactive chat and the tournaments that 3Dice offer, one of the most appealing facets of this outstanding casino has to be the support staff. From the casino manager Enzo, to the floor manager Anna, to each and every CS rep, overall this casino has to have the best support structure in place of any online casino.
They are all courteous, polite, friendly, funny and professional. But above all, they are all equipped to handle almost any problem that may arise. After dealing with one of the managers, or the reps, you always leave feeling that the old saying about the customer always being right, is alive and well here at 3Dice. Support staff are available 24/7, 365 days a year via email, telephone or live chat.
Summary
You can read a dozen reviews about 3Dice Casino, but truly, this casino is one that has to be experienced to be appreciated. They have a great reputation because they are honest, fair and above all, they value their players and realize that without them, the casino or this industry simply wouldn't exist.