These Games Managed To Break Out!
3 Less Common Online Games That Are Quickly Gaining Public Interest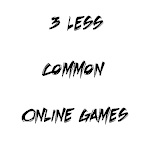 Today's technology is a cut above anything we could ever have imagined when the Internet was just starting to get popular. Who would have thought then that nowadays, less common online games would become so simple and accessible in mere seconds? The only thing left to worry about is cost, but that is soon to be corrected as well.
In our day and age, new and revolutionary ideas just keep popping up, people enjoy the process of creating new means of entertainment for all and seem to be motivated by much more valuable rewards than material profits. The joy of gaming brings us some excellent perks and, thanks to the huge expanding array of various options available, many more people are starting to benefit.
"Free Gambling Games" – Not An Oxymoron Anymore
RPGs are seemingly the most well-known games you can play online for free, however, there are those rare sites that like to bring something new to the table, while still maintaining their classic appeal. For example, the games featured at online casinos that we offer here are all free to play, even though they are gambling games. This leads to an increase in popularity of the said games, simply because people get to experiment with various options and see what they like, without any pressure or limitations.
Paying, even though it may seem like a small detail, is an extra element to worry about when you start enjoying a certain product or service, and it's not long before you start looking for ways of spending less.
Online Games Are Expanding Their Range
Everyone has heard of roulette and poker, but what about the less common online games you don't hear about so often? In case you're curious to know what they are, let's discover the three online games that have been getting huge on the Internet as of late, thanks to their instinctive play and the fresh new perspective they bring.
• Baccarat
This game has different versions available so that you have a chance to get bored. Punto Banco, Chemin de Fer or "Chemmy" and Baccarat Banque or "à Deux Tableaux" are the names of each variant and they are each approached with a different strategy in mind.
Punto Banco is the most popular choice for Baccarat lovers out there and in some countries, it's known as "Tableau."
• Free Slots
When slot machines were first invented they were called the one-armed bandit because they were thought to rob you of your hard earned cash. Well, now that problem can be avoided by simply going online to play.
Aside from that, the subjects approached by this game genre have to be the most varied ones you can find. From romance and popular movies to sports, fantasy, oriental, even history themed slots can be found online, in great numbers. You can always keep it fresh and try something new with this game genre, plus, you get to feel like a winner without actually investing any real money into them, which makes the concept of slot machines more freeing and appealing.
• Scratch Cards
Environmentalists would be proud. No more wasted paper. But in all honesty, scratch cards have always had a certain appeal. The feeling of mystery when you're just about to uncover the prize hiding under the thin scratchable coating that masks the code is both unique and exciting. Experiencing this feeling online takes it one step further, into the modern day and age, and provides endless chances to enjoy these less common online games over and over again.
Who Knows What Will Happen Next
Keeping an open mind always holds a lot of possibilities for you to learn and experience new things. These three games have managed to break out from the shadows of online games and are gaining fast acclaim. Who knows what else we will find popular in the future thanks to the change brought on by modern technology? Keep your eyes peeled to find out, and stay curious!