Delaware Online Casinos — Is Gambling Legal in Delaware?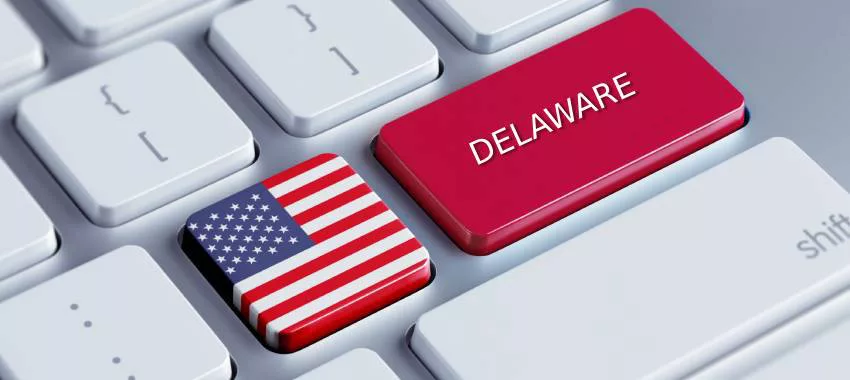 Delaware is one of the smallest states in the USA, but it is also one of the most progressive ones when it comes to gambling laws. This small state on the East Coast of the US has always had lenient gambling-related laws, but in the last decade it has taken them even further.
Today, Delaware is one of few US states that have legalized all forms of gambling, including online casinos, poker, sports betting, horse betting, the lottery, and charitable gambling. In order to be able to gamble in online and offline casinos in Delaware, you need to be at least 21 years old. However, you can place bets on horse races when you're only 18 years of age.
Top 3 Delaware Online Casinos
Online Gambling Legality in Delaware
Since 2012, Delaware has been at the forefront of online gambling in the USA. It is one of the four states in the whole country where online gambling is legal, the other three being Nevada, New Jersey, and Pennsylvania.
However, Delaware was the first state to legalize online casinos in 2012, beating Nevada and New Jersey, even though those two were expected to be the pioneers. Thanks to that, Delaware now makes a profit of millions each year, which helps the whole state to thrive.
Online Casino Licensing in Delaware
Online gambling is regulated and licensed by the Delaware Department of Gaming Enforcement — the only authority that can issue gambling licenses in the state. However, not anyone can start an online casino and obtain a license. All online casinos in Delaware need to be "attached" to land-based casinos.
At the moment, three online casinos are operating in the state, all of which are related to the three "racinos" (race track + casino) that exist in the state. They are called Dover Downs, Delaware Park, and Harrington Raceway, and their online counterparts are named Delaware Park Online, Dover Downs Online Gaming, and Harrington Online.
Three online casinos might sound like a limited selection, but you should remember that Delaware is a state with a population of less than a million residents.
Gambling in Offshore Online Casinos
Operating an online casino in Delaware without operating a land-based casino at the same time is illegal. However, there are no laws that prohibit players from gambling in offshore online casinos. In terms of gambling-related laws, it seems that the state of Delaware does not care at all about what players do. All they care about is regulating land-based casinos and online casinos themselves.
Therefore, if you are not happy with the selection of games you can find in the three Delaware online casinos, don't be afraid to look elsewhere. There are thousands of offshore online casinos that offer games to Delawareans — you can play without any consequences there.
Which Games Can Be Played in Delaware Online Casinos?
If you live in Delaware and you have a diverse taste for casino games, you are lucky since you can play all kinds of games here.
The three government-operated online casinos in Delaware offer a rich selection of casino games. Their libraries include a variety of modern and classic slot games, poker, as well as casino table games such as roulette, blackjack, baccarat, and more. Live games, including live poker games, are also allowed and available in these casinos.
Important Things for Players to Remember
There is little regulation regarding players in Delaware, as most laws are concerned with the operators themselves. However, if you engage in any form of online gambling in Delaware, here are some important things to keep in mind:
Deposits can be made with credit cards or by bank transfers, whereas withdrawals can be made with checks or by bank transfer.

Players can have an account on each operator's website. However, players cannot own more than one account at a time.

Transfers between accounts and online casinos are not allowed. Players are also not allowed to make player-to-player transfers.

Be careful not to end up with an inactive account. Any money left in inactive accounts will go to the state. However, there are no definitions that explain what an inactive account is. You could try to find that out by contacting the customer support team of each online casino.

If you have any issues or disputes with an online casino, the state has extensive rules set in place to resolve these.

If you choose to bet in offshore casinos, you cannot expect to get any protection from the state in case you don't get paid by a casino, or you fall victim to fraud.
Frequently Asked Questions
If you're looking for quick answers to commonly asked questions about Delaware online casinos, check out the section below.
Is online gambling legal in Delaware?
Yes, online gambling is completely legal in Delaware. It was legalized in 2012. Residents of Delaware are allowed to play in three state-regulated online casinos.
Are Delaware online casinos legal?
There are three legal and licensed online casinos in Delaware. They are called Delaware Park Online, Dover Downs Online Gaming, and Harrington Online.
Can you play in offshore online casinos in Delaware?
Yes, you can. This area of online gambling in Delaware is not strictly regulated, so Delaware residents can freely bet in offshore online casinos.
Is online poker legal in Delaware?
Yes, online poker is completely legal in Delaware. You can play it in one of the three state-operated online casinos or in any offshore casino on the web.
Is sports betting legal in Delaware?
Yes, sports betting is legal in Delaware. Delaware was one of the first countries to legalize it after PASPA was abolished by the Supreme Court in 2018.
Is horse racing legal in Delaware?
Yes, horse racing is completely legal in Delaware both online and at race tracks.
What games are legal in Delaware online casinos?
Slots games, roulette, blackjack, video poker, live poker, and other popular games.
What is the legal age for gambling in Delaware?
In order to play in Delaware online casinos, you need to be at least 21 years old. However, you can bet on horse racing when you turn 18.