Is it Legal to Gamble in Alabama?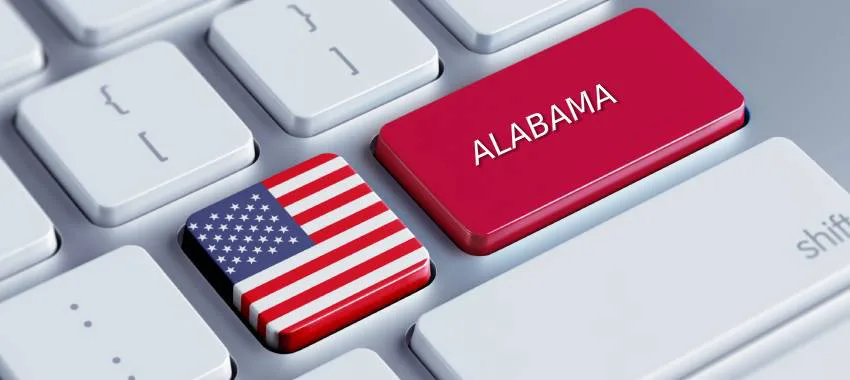 Alabama is seen as one of the most conservative states in the Bible Belt that frowns upon any activity that might be considered immoral and publicly unacceptable. However, to an extent, gambling is not one of them. Although still a matter of debate, different forms of gambling in Alabama are legalized and regulated. These include charitable gambling, Pari-Mutuel betting on horse and greyhound racing, and Tribal casinos.
In this article, we will cover the most important aspects of gambling in Alabama, its laws and regulations, and where in Alabama you can find the best casinos.
Top 3 Alabama Online Casinos
Gambling Laws in Alabama — The Law Overview
Strictly speaking, under the Constitution of the State of Alabama declared in 1901, all forms of gambling were made prohibited. However, things have changed drastically since then, and the current legislation has been amended several times over the years to include types of casinos mentioned above.
The 1901 Constitution
The 1901 Constitution, under its Alabama Criminal Code 13A, Chapter 12, declared all forms of gambling illegal where gambling is an act in which "A person engages in gambling if he stakes or risks something of value upon the outcome of a contest of chance or a future contingent event not under his control or influence upon an agreement or understanding that he or someone else will receive something of value in the event of a certain outcome."
Under this law, all forms of gambling games got restricted, even poker that is still considered by some in Alabama a game of skill; however, it involves flipping the cards, which means the outcomes are connected to luck.
These regulations can be considered quite outdated, as they ban any maintenance of equipment, such as elevators and dumbwaiters, that can be used to signal players involved in gambling, which doesn't make much sense. The violation of the law and engaging in gambling activities is marked as a Class C misdemeanor. If you promote and host illicit gambling, you could be charged with a Class A misdemeanor and face serious jail time.
The legal age required for entering a land-based casino or engaging in legal gambling activity is 19.
Betting on Greyhound and Horse Racing Legalized
One of the first notable changes of the law happened in 1971 when the Supreme Court legalized pari-mutuel betting on greyhound racing and horse racing tracks, both off and on track. With these changes, cities over 300k inhabitants were allowed to decide on a referendum if they want to legalize betting or not.
Charitable Bingo Allowed
In 1980, charitable bingo was ruled legal in Jefferson County with an amendment to the state constitution. Under this law, a charitable organization can host bingo draws with no more than $7,500 in prize money awarded to winners per week, with the rest of the money given to charity. Only two sessions lasting up to 5 hours per week are allowed. 
The Indian Gaming Regulatory Act
In 1988, the Indian Gaming Regulatory Act came to power, allowing the tribes to set up casinos and offer gamblers services that include bingo machines and slots without the use of table casino games.
Is Online Gambling Legal?
In Alabama, all forms of gambling, apart from the ones mentioned above, are deemed illegal, including online gambling. No online casinos are allowed to operate within Alabama state borders, and no bookmakers can offer sports betting to Alabamians. However, no law bans Alabama players from accessing offshore online casinos and bookmakers and placing their wagers there.
Where to Gamble in Alabama?
Three land-based casinos in Alabama constitute legal forms of gambling, plus a few racetrack and bingo centers.
About Poarch Creek Indian Casinos
In general, the territory of the Yellowhammer state includes Native American reserves, populated mostly by the Creek Indians who are entitled to govern their land and regulate its laws to a certain degree, which means they can establish and run Tribal casinos. Tribal casinos in Alabama are licensed and regulated forms of land-based casinos that can operate only within Native American land.
The sole prerogative to establish and run casinos in Alabama sits with the federally recognized tribe Poarch Creek Indians, apart from the fact that the Alabama state recognized eight other tribes, but they can't have casinos.
The Poarch Band of Creek Indians controls the Native American casinos, and their regulation comes from the agreement between the Poarch Band of Creek Indians and the state of Alabama, and under the 1988 Indian Gaming Regulatory Act that structured gaming on Indian lands.
Under these regulations, three land-based casinos have been established so far in Alabama, and are allowed to operate Class II games. Class II games refer to bingo-typed games, where machines randomly choose an outcome, but from a pool of possible choices. These games aim to recreate the Class III slots casinos experience while staying within the regulatory limitations. Class III machines are slots, blackjack, video poker, and other games that operate on Random Number Generators in charge of providing an entirely random outcome of a spin or hand played. Also, table games are not allowed.
The Poarch Creek Indian and other brick-and-mortar casinos found in Alabama are:
Wind Creek Casino Wetumpka
Wind Creek Casino Wetumpka is located on 100 River Oaks Drive, Wetumpka, Alabama, and represents one of the best examples of Vegas-style casino resorts. With over 2,500 bingo and Class II casino games, and a hotel with fully-equipped rooms and suites, Wind Creek Wetumpka has everything you need for a gaming getaway. On top of that, there are frequent casino promotions for new players that give free play cash, free tickets for the hottest events, and complimentary food and services.
Wind Creek Atmore
Another Wind Creek casino, Wind Creek Atmore resort, includes over 1700 games of Class II, as well as AAA Four-Diamond-rated luxury hotel, world-class Spa, exceptional dining venues with the best steakhouse in Alabama, and much more. It is found on 303 Poarch Rd., Atmore, Alabama, where more than 100 guest rooms that house hundreds of punters from all parts of Alabama. In Wind Creek Atmore, you will encounter friendly staff that will make sure you have the best gaming experience.
Wind Creek Casino Montgomery
Wind Creek Casino Montgomery is probably the most well-known Wind Creek casino thanks to its offer that includes over 2,200 games, luxurious accommodation, excellent dining experience in three different restaurants — all spanning over 65,000 feet of space. There are also top entertainment events, such as live musical performances, to be found in Wind Creek Casino Montgomery, on top of various casino promotions that will make your stay a memorable one.
Victoryland
Victoryland was once the largest bingo and hound racing facility in Alabama owned by the McGregor family. It used to be home to over 7,000 slots, 1,230-foot greyhound racing track, hotel, and dining rooms. However, since its closure in 2011, it has reopened as a casino solely, with over 500 Class II charity bingo machines and simulcast horse and dog racing venue. You can locate Victoryland on 8680 Co Rd 40, Shorter, Alabama.
Racing and Bingo Venues
There are a couple of racing and bingo venues you shouldn't skip if you are looking for live and simulcast greyhound races and charity bingo events.
Birmingham Racing
Birmingham Greyhound Racing is a top greyhound destination in Alabama, located on 1000 John Rogers Dr, Birmingham, Alabama. It houses live and simulcast racing events you can bet on using the pari-mutuel model. In this establishment, you can also find other forms of entertainment, such as billiards and darts.
Mobile Greyhound Park
Mobile Greyhound Park offers simulcast horse and greyhound races seven days a week. They used to have live events, but as of 2017, they only have simulcast races. They also offer an attractive dining option with a variety of appetizers and dishes to choose from. Mobile Greyhound Park is located on 7101 Old Pascagoula Rd, Theodore, Alabama.
Greenetrack Bingo & Racing
Greenetrack Bingo and Racing is a venue where you can indulge in charity bingo on over 400 machines, as well as simulcast racing events and occasional live ones. The Class II bingo machines pull prizes from the designated community pool, despite their appearance of classic slots. They can be found in 24 Co Rd 208, Eutaw, Alabama.
FAQ
Are casinos legal in Alabama?
Casinos run on the land of the Creek Indians and by the Poarch Band of Creek Indians are legal and regulated.
Is betting on greyhound dog races allowed?
Yes. You can bet on both live and simulcast greyhound races in a couple of licensed racing venues.
Is online poker legal in Alabama?
No. No online gaming is permitted in Alabama, but offshore gambling is not sanctioned, and players are not persecuted for playing in online casinos outside of Alabama.
How old do you have to be to enter Alabama casinos?
You have to be at least 19 to enter casinos and engage in pari-mutuel gambling and pull-tabs.
Do Alabama Casinos have table games?
No. Only Class II games are legal, and table games belong to the Class III group of casino games.