Best Mobile Casinos
Added on May 17, 2020, in Casino Info Articles, Gambling Articles by Gambling Gurus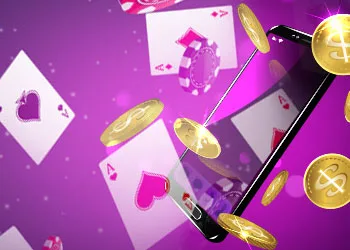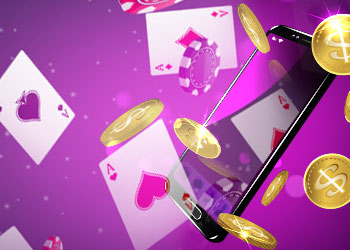 Today, there are basically three ways to go about casino gambling – you can visit a landbased venue, play on your desktop, or have a go on your mobile.
Each avenue shares similarities and differences with the others, and some have even been hybridized in an effort to achieve the best of all worlds.
It could be argued that there are really only two ways – in person or online – because the mobile experience is strikingly similar to the desktop experience.
Let's examine that…
Any game you can play in a posh regional casino with an electric atmosphere, you can play on your home computer.
I think we'd agree that is a true statement. The exception would be live craps.
As well, any real money game you can play on a desktop computer with a two metre flat screen and a surround sound system, you can play on your handset.
Again, that seems to be a true statement.
However, all three modes of play offer different user experiences.
Allure of mobile gaming
The novelty of playing on a handset can wear off rather quickly. Playing mobile simply for the sake of it does not have much attraction. The screen is smaller, the sound is thinner, and the user controls sometimes leave a bit to be desired.
However, mobile gaming is handy, and well… it's mobile! But as we can see in this graphic from the UKGC, gambling on a mobile device is not restricted to the pub, a commute, or even work. The vast majority of players, at least in the UK, gamble on their smartphones from home.

If you are like most people, your personal communications device is an important part of your life, an extension of yourself. It probably goes everywhere you go.
People in India, parts of Africa, and in Canada and the United States all spend a good amount of time virtually connected to the outside world by their smartphones or tablets.
An article in the Guardian noted that researchers found people generally spend over 3 hours a day on their phones with one in five Brits devoting nearly four and a half hours each day to their devices.
No wonder 50% of online gamblers surveyed by the Gambling Commission in the UK had done so using a mobile phone in the previous four weeks.
2019 was the first year that gamblers preferred mobile devices to laptops since they began to track such behaviours. PCs placed third, tablets fourth, and smartTV gambling was a distant 5th place.
It's no wonder so many people search for the best mobile casinos when they decide to play online.
This, from the Gambling Commission's Gambling participation in 2019 report (PDF)
Mobile phones remain the most popular method of gambling online in 2019. Among online gamblers, mobile phone use for gambling significantly increased (50%, an increase of 6 percentage points from 2018), whilst laptop

use significantly declined (38%, a 6 percentage point decrease from 2018).

Those who gamble on mobile phones were typically in the younger age groups, with 76% of 18-24 year olds, 72%

of 25-34 year olds and 66% of 35-44 year olds who gamble online, using a mobile to gamble in the previous four

weeks. This contrasts with 14% of those aged 65+.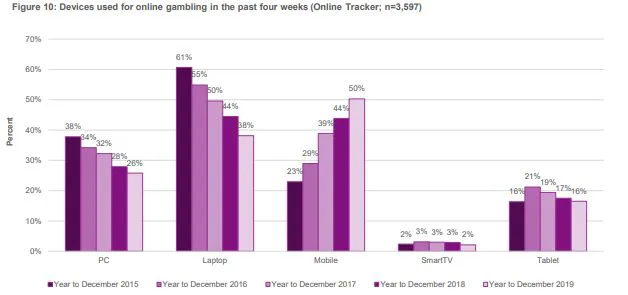 Those numbers are not surprising, especially as they mostly align to the use of mobile devices across age groups for all purposes.
Commonalities and differences
To say that gambling is gambling, online or offline would be about as accurate as saying that sports are sports – whether you have a stadium seat or you are watching a match on television.
Both are exciting, but in their own ways. The facts that people use smartphones more than any other mode to gamble on line, and that over 90% of people game at home on those devices, indicates that it is simply the increased use of smartphones, rather than anything the industry is doing that accounts for the rapid rise in smartphone gambling.
But…
There's more to the picture, and it's known as HTML5.
HTML5 is simply a markup language that runs behind the scenes and allows you to view images, hear sounds, and spin the reels of an online slot machine, watch a roulette wheel go around, or to place a bet on a live blackjack table – no matter what sort of device you are using.
HTML5 is the magic behind your web browser.
It is the omni-channel miracle that gives you virtually the same lobby and games on a handset as you get on a laptop.
The games are played in a browser so you don't have to download and install a special app for mobile gambling. This, we believe, is the major technological advancement that is most responsible for the explosion of mobile casino gaming.
It might be interesting to note that live streaming casino games also use the technology – but more importantly, live game providers were among the first to take advantage of it. Now, rather than an oddity to be sought out in some strange corner of the internet, live streaming games are readily accessible at most online casino sites.
In addition to the omnichannel solution being cross-platform, it also has special coding that "reads" information from your browser and phone to deliver the best experience possible. This is known as optimization.
The code will scale game elements to display perfectly while fitting nearly any sized monitor on a laptop or even a PC with an HD big screen. It also scales down to fit your mobile display with crisp clear graphics and smooth animations.
When you reorient your device the display will be optimized for landscape or portrait mode, and then return to the best view when you switch back.
The coding is lean and quick to respond to anything thrown at it within certain parameters. Much of the "work" is already taken care of so it doesn't tax your device's processor. This has the added benefit of extending the life of your handset because it won't heat up your battery as much as an onboard app would, and heat kills electronic devices.