Online and Land-Based Sports Gambling Competition
Is It Illegal for Canadians to Place Bets on Sporting Events or to Gamble Online?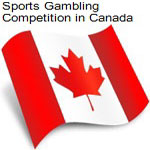 There is a great deal of competition between online and land-based casinos in Canada and this is especially true in the sports betting arena.
Full details can be found in this Canadian online betting guide.
Before we proceed, it is important to point out that it is not illegal for Canadians to place bets on sporting events or to gamble online, however the laws surrounding sports betting websites clearly state that any online gambling establishment located in Canada must hold a government issued license.
Legal Sports Betting In Canada
Current laws state that it is legal for provincial governments and casinos to offer wagering on sporting events. To do so, the betting options cannot cover single games. Therefore, land-based sports betting establishments and casinos can only offer parlay wagers such as accumulator bets across several games that are taking place at the same time.
Parlay bets are one of the reasons that a lot of Canadian gamblers choose online sports books. There they can place bets on single sporting events and quite often, they get better odds.
The argument stands as to why the Canadian government hasn't allowed wagering on single sports betting events and why a blind eye is turned at online betting? Gaming law expert and lawyer Chad Finkelstein has spoken out about this and stated,
"The criminal code was written decades ago, and these provisions with respect to gaming were drafted in the 1960s and haven't really been updated since."
He also went on to say, "These provisions were not drafted with anything remotely resembling the internet ever contemplated. So we have outdated, antiquated provisions, which makes it difficult to apply to a modern gaming business."
According to Paul Burns, vice president of the Canadian Gaming Association, Canadians spend an estimated $4 billion every year at offshore sports books. In contrast to this, they spend approximately $500 million on provincial sports lottery games such as Ontario's Pro-Line.
If single sport betting was allowed, there would be no reason for gamblers to use international sports betting sites, but at this moment the adage applies,
"If you build it they will come,"
…and that is exactly what has happened. Online sports books offer single events sports wagers and that is what sports betting fans are looking for. Add to that the ease of being able to place bets from the comfort of their home and it's a win-win situation.
So why hasn't the law been changed?
Sports Betting Bills C-290 and C-221 Defeated
Bill C-221, also known as the Safe and Regulated Sports Betting Act was defeated in the House of Commons. This was the newest Canadian sports betting bill that would have allowed provinces to offer single game sports betting. It received just 46% support receiving 133 or 289 votes in the Canadian parliament. The Liberal party cited concerns about problem gambling and match fixing when they opposed it.
It's predecessor Bill C-290 was the first attempt at introducing single game sports betting but it died in the Senate in 2015.
Had bill C-221 been passed it would have meant that paragraph 207 (4)(b) of the Canadian Criminal Code would have been amended to allow provincial governments to offer single game sports betting and it would have alleviated a lot of the competition between land based and online sports betting establishments.
It would have removed the Parlay requirement that is currently forced upon Proline and other provincial sports lotteries. Had this bill been passed, Canadians would have been able to bet on one game at a time in their local convenience store or sports betting shop.
In fact, PlayNow.com the BC provincial online casino and online sports lottery was designed to have the ability to offer single game betting if and when it was allowed.
While there is no guarantee that the odds offered by provincial single game bets would have been as good as their international online competitors, it would have been nice to see and compare.
So with competition at an all-time high, the only way for Canadians to place wagers on single sporting events, like the Super Bowl, is to use online sportsbooks.