The Debate of Online Vs. Land Based Casinos
Added on November 27, 2017, in Gambling Articles by Gambling Gurus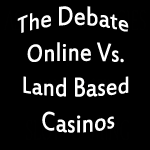 Since 1996, the popularity of online casinos has been growing. Now they are in a position to be compared with the traditional land based casinos. For many, online casinos seem like the perfect fit while others prefer the old way of gambling.
Online Casinos
If we talk about convenience and comfort, then online casinos seem to fulfill these criteria the best. You don't need to dress a particular way or follow a particular behavior pattern while playing this way. You can play however you want and wherever you want.
Everything is just click away in the digital age. You can play from the comfort of your home. You can play for the whole day or play intermittently with lots of breaks, the choice is always yours.
Since the online casinos understand that they can't compete with the real casinos, therefore they are coming up with newer ideas to be in a stable position themselves. Compared with the land based casinos, they offer bonuses and promotions to their customers. These promotions and bonuses are a source of earning money and credit for the people.
Perhaps the most distinctive feature about the online casinos is that you get free money while you have just started to play. It is called a no deposit bonus. You become eligible for the free money just by creating a user account.

Although $200 is the standard bonus, however you could have opportunities to win even more than that. That is not to say that it does not come with conditions because it sets a minimum number of hands that you must play before you withdraw the funds.
The online bonuses and promotions are a great way to lure in new players. They are also greatly instrumental in maintaining the regular players to continue playing. This incentive to maintain their customers loyal is a great feature of online casinos.
Additionally, there is no any condition to be at any place to play in the casino. In the digital casino, there is no any obstacle of place. You can be anywhere in the world, even then you can play as long as you have your device along with an internet connection. And these casinos are open all the time, 24 hours of the day and 365 days of the year. Play whenever you want, whether it is 1 am or 1 pm that is not a restriction at all.
The basic rules of both land based casinos and online casinos are the same. However, you could be playing against a computer program in some instances of online casinos. While at other times, you would be playing against another player through a video stream in either a heads up manner or with other players at a table.
The online environment offers greater chances for poker players than the land based casinos. While playing live poker, there is a limitation of only one hand at a time, while in the online world, you can play up to 24 tables at a time. Not only that, there are other perks of online casinos. For example, you can measure your probability of winning with the help of many statistical tools, or you can know the hand history of your opponent.
Land Based Casino
The prime objective of any player is to have fun and socialize by visiting a real casino. The experience of actually playing in a real casino is something else. All the sights and sounds in the casino is something worth experiencing for any player.
They can hear the cheers of success and the grunts of disappointment along with the background noise of the slot bells. The attractive cocktail waitresses will be around you. The flashing neon lights you will see there. You are even likely to see some celebrities. Such a beautiful environment is perfect for your socialization. It is not just play that attracts everyone to come here, rather it is the whole package that comes with it which makes it very appealing.
Also, you can get free accommodation along with free show tickets and buffets as the perks of land based casinos. And once you are in the comp system of the casino, you are likely to get a lot more extra benefits.

These benefits include free bets, free slot play coupons and free food etc. Local players of casinos can expect different benefits in the forms of leisure or hardware items etc.
Just as there are a lot of benefits of a land based casino, there are some negative points as well. If the casino happens to be in another city, then you will have to bear the expenses of transportation, meal and accommodation. The expenses in these cases will depend upon the distance between a player and the casino.
In the end, there is no one single answer in the debate about online vs. real life casinos. The ultimate purpose is to have fun and some feel online casinos are more fun while others feel the same about real life casinos.