Gambling Videos from Around The World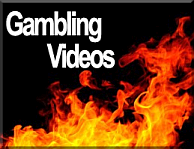 Our 'Gambling Videos' section covers topics from the online casino industry and land-based gambling news to video documentaries about High-Rollers and Whales.
You'll also find videos showing great winning spins on the slot machines and fantastic hand-pays on the video poker games!
Watching some of these cool videos, especially the slot machine winning videos, makes us want to try a few spins too! Check out the Golden sisters video below, it's sure to start you off with a good laugh, enjoy.

This video documentary, although aged is still a very interesting piece of documented Vegas High-Roller Video history. Back in 2007, Louis Theroux spent a memorable weekend in Las Vegas as part of a television series for the BBC. Louis Theroux is well known in the UK for his narrative documentaries on fascinating subjects he's been making since the 90's.
APCW Perspectives Weekly Videos offer our visitors news and information about the gambling industry and the politics of the online gaming world.
____________________________________________________________________
The Golden Sisters Go To Vegas, Baby!
One of our Favorite Gambling Videos!
More Gambling Videos Coming Soon!