Rain Dance 1100 Spins
Added on July 5, 2014, in Casino Wins by Gambling Gurus
Rain Dance 1100 Spins Won at ClubUSA Casino! – RTG Winning Screenshots
The coyotes howled and the drums beat loud when 100 Free Spins were initially hit in the popular RTG Video Slot Game; Rain Dance.
But wait that's just the beginning of this big medicine tale!
For centuries now, Native Americans have called upon Spirits to work in their favor and that's exactly what Gambling Guru did while low-rolling the spins on Rain Dance. Gambling Guru sent wishes for good luck, free spins and big wins up to the spirits that rule the 'winds of chance'. ….Read on to see what happened next….
The Spirits spoke back! They told Gambling Guru to seek the wisdom of 'Chief-Runs-With-Premise' to bring a windfall of wampum with free spins which can re-trigger more free games and also offer the Guru a chance at winning a random jackpot!
At this point Guru thought someone else had been hitting the peace pipe a few times too, but the 'Chief' spoke wise words to the Guru. The Chief blessed him with the 'Tribes Proverb' of good wishes;
"May Luck Run Through You, Like the Spirit of the Buffalo"
As Gambling Guru started spinning the reels of 'Rain Dance Video Slot' at ClubUSA Casino, the Chief symbol landed on the first and last reel after only a few clicks on the spin button. This triggered a re-spin mode feature that re-spun the three middle reels one spin each. While in re-spin mode, the three middle reels each landed a scatter symbol (the coyote) with all five symbols paying a total win of $50 on a 0.25 cent bet! Since all 5 of these feature symbols had landed, the 'free game feature' was triggered for 100 free spins at 5X times payback.
Now spinning for 'big medicine' in the initial 100 free spin mode, 3 more scatter symbols were hit for an additional 100 free spins. Only needing to hit 3 scatter symbols to re-trigger the 100 free spins again; the Guru went on to hit this feature 9 more times over an hour and a half of watching the reels spin for a grand total of 1100 free spins and a huge win of $1,691.05! How sweet is that!
Only 5-lines were being played on Rain Dance at 0.05 cents per line for a total bet of 0.25 cents per spin. Don't think you can win big on small, low-rolling bets? Or you think the games RTP settings are set too low at ClubUSA Casino? Then you need to think again as Gambling Guru just proved that theory wrong as you can see in the winning screenshot below. This was an *amazing *astounding *phenomenal WIN of 6,764X times his total bet size.
* I told you guys this was a big medicine tale *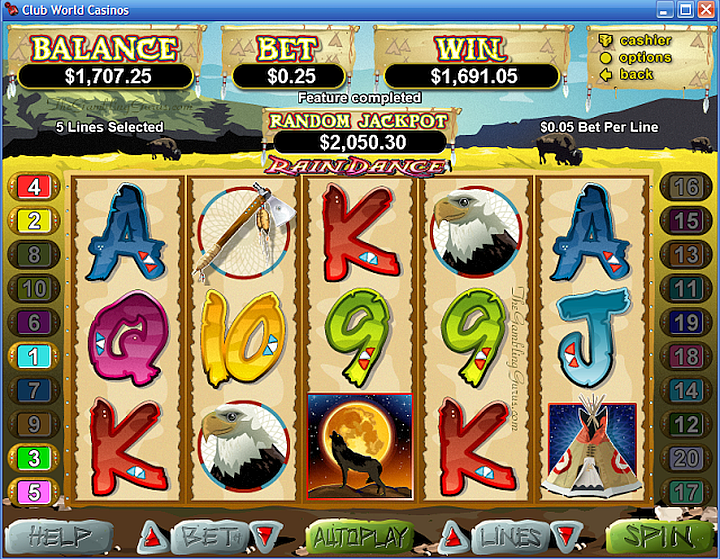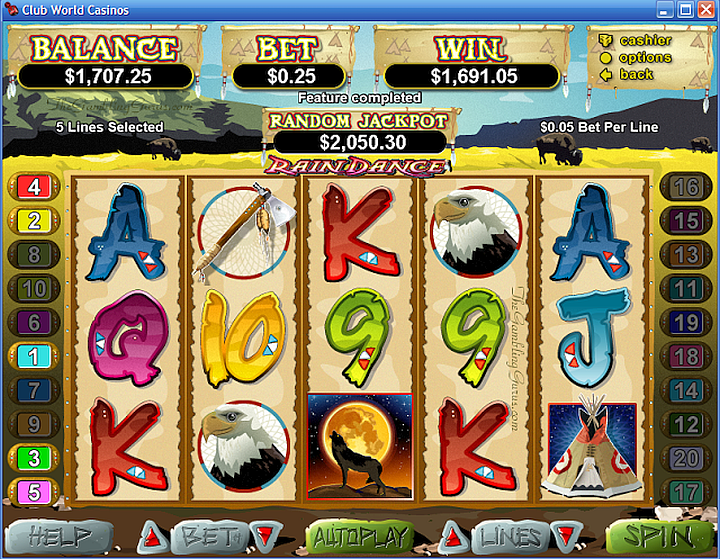 Rain Dance Slot is a 20-line, 5-reel video slot game offered by Realtime Gaming Casinos. Players can can bet from $0.01, $0.02, $0.05, $0.25, $0.50, $1.00 or $5.00 per line. Players can play from 1 to 20 lines. The default for the game is 20 lines but they can change the number of lines played as the Guru did above and raise the variance level of the game play.
The Bonus and Re-Spin Features: 'Rain Dance' offers two bonus features: three, four or five scattered Coyotes award 10, 15, or 100 free games, respectively. Free game prizes are multiplied by three, four, or five, according to the number of scattered Coyotes or chiefs triggering the feature.
The re-spin feature can be won during free games. Three or more scattered Coyotes occurring after a re-spin awards the same number of additional games as the original trigger awarded. Free games are played on the same number of lines and bet amount as the initial triggering game.
Re-Spin Feature: A re-spin feature is triggered when two or more scattered Coyotes appear anywhere or a chief lands on each end. After pays are awarded, reels with a scatter Coyote or chief are held while the other reels re-spin once. Scatter pays (only) are awarded after the re-spin. If five scattered Coyotes trigger the re-spin, all reels re-spin to the triggering position once and the top 5 scatter pay is awarded again.
Substitute Symbol: The Chief Symbol only appears on reels one and five and substitutes for all other symbols including scattered Coyotes. The Chiefs' double the prize when one or more appear in a winning combination.
Random Progressive Jackpot: A Random Progressive Jackpot can be won at the conclusion of any game. The Jackpot is triggered at random and is paid regardless of denomination played. Random Jackpot wins are added to other wins.
* All symbols pay Left to Right except scattered Coyotes, which pay left to right and right to left.
* Wins on different lines are added.
* Scatter wins are added to line wins.
* Scatter wins are multiplied by total bet size.
* Line wins are multiplied by bet per line.
* Highest win only paid on each line.
* Maximum win per paid spin is 50,000 times bet per line.
Try your luck on Rain Dance video slot game today and see if the Spirit of the Buffalo runs your way! ClubUSA Casino are offering our visitors a free $25 ND Coupon to test the games before depositing. Just sign-up thru our link and claim your GURU25 free play bonus today!
Read our ClubUSA Casino Review for more info on all of the great casinos in this group.