Butterflies Slot
Added on September 22, 2015, in WGS Technology Video Slot Games by Gambling Gurus
Butterflies Slot Video Slot
Butterflies Slot, as it's aptly named, not just for the theme but for what happens in your belly when the emerging character flits across the screen is a 25-Payline, 5-Reel video slot game.
The slot is visually pleasing with nicely colored graphics. It displays the standard 9, 10, J, Q, K, A augmented by red amanita mushrooms. There's a caterpillar, two varieties of blue butterflies, a scatter symbol being a flower and the 'House of the Butterfly'.
Click Here to Play Butterflies Slot Now and Get $10 Free No Deposit Bonus!
The larger butterfly holds the jackpot of 7,000 coins for five on a pay line and the smaller one kicks out 3,000. Five scatters pay 100 times total bet for a potential scatter pay of $25,000 on max bet! Butterflies Slot offers a bonus feature which is granted to the player when a 'House Symbol' appears on reel #1, accompanied by lively animations.
You can see the 'House Symbol' in Reel-1 below as well as the Butterfly taking off for flight in the 2nd reel of the screenshot below…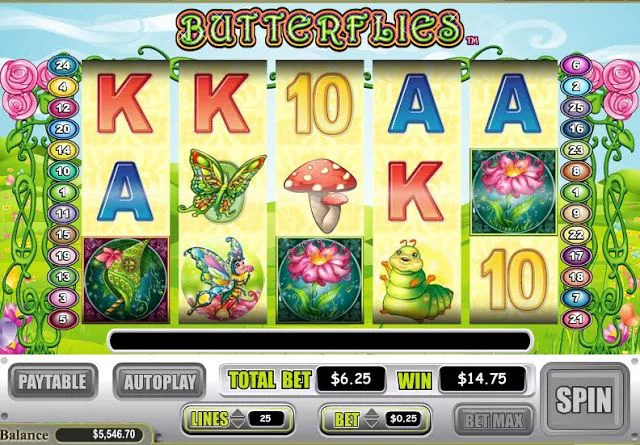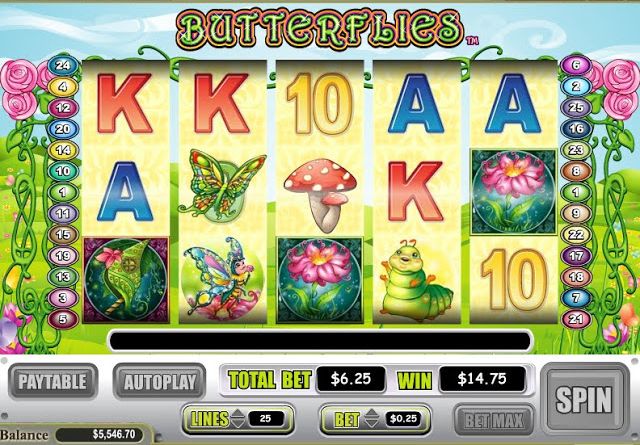 The House is wild as we stated above and when it lands anywhere on the first reel it becomes animated, signaling the "Butterfly Feature". A Butterfly will appear and randomly change symbols to Wilds. After payouts for the triggering spin are added to your balance, Butterflies will emerge from the cocoon at random and land on some or all of the remaining reels.
Play this great game Butterflies Slot now at Miami Club Casino!
The anticipation is heady if you're the kind of player like I am that pays attention to the value of the symbols as they land. Any spot that the newly born Butterflies land on becomes wild as well, so what starts out looking like a potential no win spin can turn into the jackpot if you happen to have the right blue butterfly somewhere on the first reel!
As mentioned earlier the flower is the scatter symbol, any two or more pay multiples of your total bet. The flowers animate when two or more appear anywhere on the screen. Two scatters pay 2x your bet, three scatters pay 5x, four pay 20x and five will pay 100x times your bet.
The minimum wager for Butterflies Slot is one cent, one line and the maximum coin size is $10, so max bet on all 25 lines will be a wager of $250. At this level the Jackpot would pay $70,000 the lesser jackpot $30,000 and maximum scatter win would be $25,000.
Without considering the Butterfly feature, the absolute best case scenario for this slot may be a high variance strategy that has you placing a $10 coin on three lines for a $30 spin!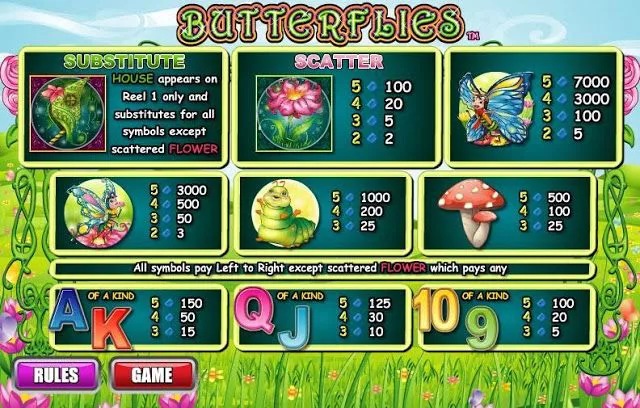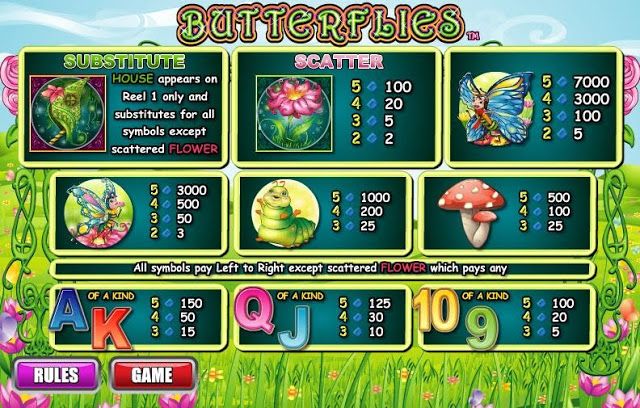 I haven't analyzed the reel layout yet but if a Scatter, the large and small butterfly, or a combination of two of those with the wild symbol were to land on the first reel and there was a five of a kind match for all three, the potential payout for a $30 bet would be $125,000 or a return of over 4000 times your wager!
It's not likely 'the stars' would ever align in such a convergence but any one of the top three prizes would be an amazing feat.
Our WGS Technology Casinos that we list here at Gambling Gurus all accept wagers from USA Players, so hobby players and high rollers and every one in between can get in on this hot new game! WGS Technology comes out with new slots at an amazing rate and some of them are just phenomenal.
Butterflies Slot can be played on any WGS Casino software.
Play Butterflies Slot now at any of the WGS Casinos we list here!
Check out our "WGS Casinos List" for the latest new WGS Casino additions and exclusive bonuses that you will find here at Gambling Gurus. Information on this website is subject to change without notice.
Related WGS Game Reviews: