Jurassic Slots
Added on August 31, 2015, in WGS Technology Video Slot Games by Gambling Gurus
Jurassic Slots Video Slot
Jurassic Slots is a 25-Payline, 5-Reel slot that is fast becoming a favorite of many gamblers just discovering WGS Technology slot games and those that have been playing since it first came out. I didn't really like this game "Jurassic Slots" at first, seemed just like another game with dinosaurs, wee!!!
But after playing it a little while I started getting into the vividness of the graphics and the color schemes. It has a real feel to it, sort of a dark foreboding feel with the music building to crescendo, then boom!
Click Here to Play Jurassic Slots Now and Get $10 Free No Deposit Bonus!
It lights up and the coin counter gets nice and fat! All of the symbols are themed to the slot so there are no 9/10/J/Q/K/A on the reels, just cool pictures. The screen flashes at random intervals to really make the game-play kinetic.
It's a five reel slot with twenty five pay lines. Coin sizes are .01 to $10 for a minimum bet of .01 on one line or max of $250 per spin on all lines, max coin. There are wild symbols, scatters for cash prize and free spins, and bonus symbols for the bonus round. There are plenty of features to keep it interesting.
The maximum jackpot is a whopping $50,000. The bonus round can net you up to $7650 before returning to the spinning reels!
The imagery is aimed at Dino-lovers, but the graphics are WGS Technology state-of-the-art so even if the theme doesn't thrill you, the playing experience will. The game features various Jurassic Park inspired symbols such as a girl with a gun, mosquitoes, jungle jeep, chopper, stegosaurus, pterodactyl, amber (petrified tree pitch with a bug fossilized in it) and even a volcano. All winning pay lines animate for more exciting wins.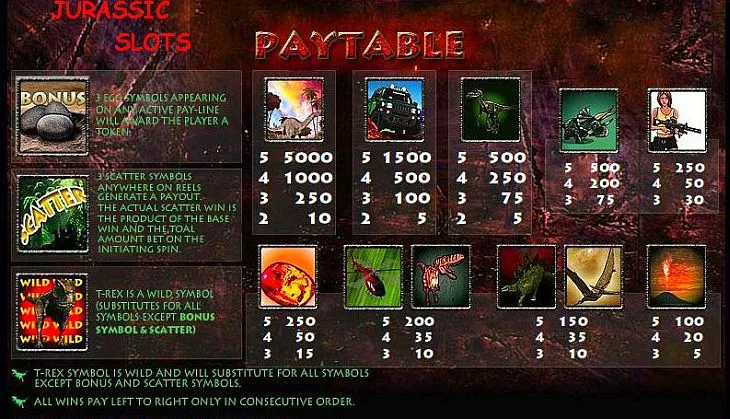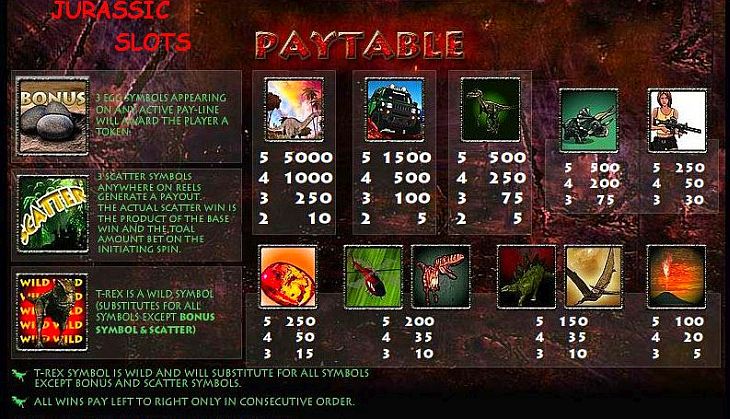 The T-Rex is wild and substitutes for all other symbols except the bonus eggs and scatter symbol. When three or more scattered jungle symbols appear, ten free spins will begin. Free spins do not re-trigger during the feature but wild symbols received during free spins will be held for all the remaining free spins for potentially staggering feature wins!
The bonus game play in Jurassic Slots is triggered when three egg symbols are displayed on any active payline. Since the bonus eggs have to appear on an active pay line, make sure that you bet all twenty five lines if you don't want to miss this feature. It's a four level bonus with the first level asking you to choose between nine items.
You'll win cash and advance to the next level if you don't pick the wrong item. The second level is a choice between five; same deal here but the prizes are greater.
The third level gives you a choice between three and if you make that then you will be asked if you would like to trade your current total prize for a card that will open a time capsule type of container, or if you would like to leave the island with your booty, either one…it's your choice!
The container may contain more or less money… you're on your own as to what to do here.
Journey to the land that time forgot in Jurassic Slots; battle the giant lizards and escape with the cash! All in all it is a fun slot with real potential for big wins. Be sure to check out all the bonuses available from Online Casino Free Money Bonuses to make sure you get all the chances you want to hit the big one.
Jurassic Slots Video Slot can be played on any WGS Casino software.
Play Jurassic Slots Video Slot now at any of the WGS Casinos we list here!
Check out our "WGS Casinos List" for the latest new WGS Casino additions and exclusive bonuses that you will find here at Gambling Gurus. Information on this website is subject to change without notice.
Related WGS Game Reviews: