Trippin-N-Vegas
Added on August 9, 2014, in Casino Wins, Gambling Articles, Las Vegas by Gambling Gurus
Trippin-N-Vegas | A Memorable Vegas Trip
Traveling Articles by: Claire Voyant
I can still remember taking off from the Atlanta airport on a special visit to LAS VEGAS, NV. We were taking the whole family. It was our daughter's 21st birthday the next day and we thought what a great way to bring it in, in true LAS VEGAS style. We were going to be Trippin-N-Vegas Baby!
The flight was smooth and we arrived at the Vegas airport a few hours later with a limo waiting for us that the Rio Las Vegas Casino Resort had sent.
As we rode down the streets, we saw several of the large mega resort casinos and each one had their own unique and interesting themes, for example the Paris Las Vegas with their Eiffel Tower. They were all beautiful, even in the daylight. I knew that they would really come to life at night with all the lights and attractions outside and I was really excited that my daughter would get to see all of this for the first time on her 21st birthday. She was definitely going to be Trippin-N-Vegas!
After cruising down the Las Vegas Strip and making a turn or two we arrived at the Rio Casino Resort and it was beautiful as always, but it really showed its colors at night. Our rooms were beautiful and I would recommend the Rio to everyone since it's a GREAT place to stay and play if you're ever Trippin-N-Vegas. All the rooms at the Rio are suites, some small and some really large and really fancy, and some with connecting rooms.
Our suite had a very nice and large living area with a wet bar, an elegant dining area, an Italian marble foyer with half bath and a huge master bedroom suite with a Jacuzzi tub and steam shower in the bath area.
In the bathroom there was a large window that offered a very cool view of some of the other hotels and attractions on the strip that were nice to look at late at night while Trippin-N-Vegas and soaking in the Jacuzzi. We also had a connecting room and another smaller suite as well for the rest of the family members. The Rio Resort treated us like I'm sure they did everyone, very special. Probably because they knew we had brought plenty of Gambling Gurus and money with us…lol!
The first night we were Trippin-N-Vegas we just stayed at the Rio gambling all evening, and we all had a nice dinner at one of their fine restaurants there. At 12 a.m. that evening, we brought in our daughter's 21st birthday with several drinks and a little video poker training for her. She loved it. Not quite sure though what she loved the most, the fact that she could legally gamble now or legally drink!
The next day the hotel staff were very accommodating in getting us a birthday cake and all the trimmings, balloons, etc., for a special surprise birthday party for our daughters 21st birthday that we had been planning for her. After the party celebrations, most all of the Gambling Gurus then took in one the shows that the Rio offered.
The Show In The Sky was fabulous and they also had a stage show that was just as good if not better. The "Show In The Sky" as it's called was like a Mardi Gras parade with beads being thrown into the crowd by some of the sexiest ladies that Vegas had to offer. Of course my husband loved this part of our Trippin-N-Vegas tour!
The hotel furnished a limo whenever we requested for our kids and their friends to go Trippin-N-Vegas to see the different shops and sites all over town. They did the big roller coaster theme ride at the New York-New York Casino, checked out the big M & M Shop, went shopping at the "The Forum Shops at Caesars" (Ouch!) etc, etc. My better half and I gambled all that day in between everything else and kept our money pretty much intact. It was a great day. That evening we had a nice seafood dinner with all the family, and also attended a "Penn and Teller Show" afterwards that was so funny it would make your side hurt from laughing so hard.
After the dinner and show the Gambling Gurus continued our Trippin-N-Vegas tour by visiting the Voodoo Lounge at the top of the Rio Casino Resort. You'll enjoy the glass elevator ride up to the top if you're not afraid of heights. It is a truly unique experience to drink, dance and party at 51 stories up in the open air pavilion. It was most definitely a high-energy club atmosphere with some great music and some very colorful characters there that gave the club a dark sexiness about it.
The patio area is huge and has everything to offer that the inside of the club has, such as bars, the VIP areas, the DJ booth, and of course the dance floor where there is also a stripper pole available for the ones who left their inhibitions on the lower floors on the ride up. The clubs outside balcony area offers the best view of the main strip of casinos and lights and practically the entire Vegas valley below. It was a magnificence Trippin-N-Vegas experience that will not be forgotten.
The next day we decided to go to some of the other casinos on the strip and check out what they had to offer, so we started off with Circus-Circus. We gambled a little while first (of course) before we decided to check out one of the World Class Circus acts they offered there. We took off from there on foot toward the Harrah's casino, which was quite a walk back up the Trippin-N-Vegas strip.
Well it was a long walk actually when you are walking in 104 degree Vegas heat! So we went into one of the first casinos we came up on in order to cool down for a minute, which was the "Mirage". We checked out some of their venues there, like the Big Cats and a few other areas. The big cats were simply beautiful. We then went into their gambling area and thought we would try our luck in the high limit area for a few spins.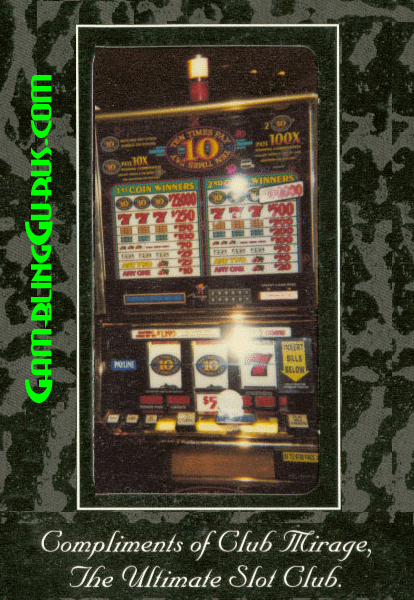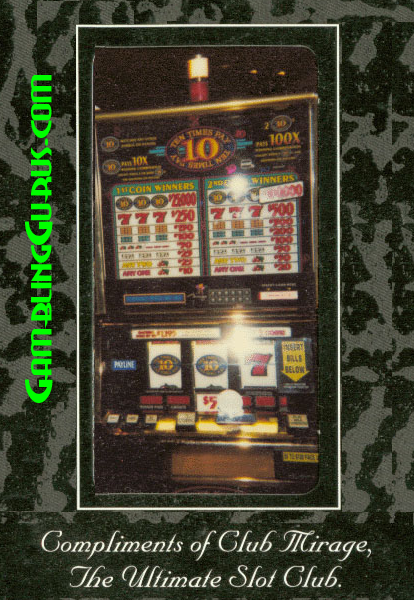 We were playing the $5 slots, when we managed to hit a small jackpot of $1,500 on a "5Times Pay slot machine" and while we were waiting for them to pay us, we decided to play a "10times Pay slot machine" right beside the other one.
We were alternating the bets from $5 to $10, when on one spin for $5 we hit for $250. We then went back to betting $10 and made a few spins and nothing hit, so we switched back to $5 bets and all of a sudden a 10times symbol stopped, and then another 10times symbol stopped, and then a beautiful "Red 7" on the 3rd reel stopped for a grand total of $25,000!!
The Trippin-N-Vegas bells went off and everyone came to see what we had hit. We were so excited and almost in shock that we had won a jackpot this large. We could not quite believe it.
It actually took a few minutes for this one to sink in, as we were still waiting to get paid on the first Jackpot that we hit for $1,500. Our casino host at the Mirage came up and offered her congrats to us and offered to put us up in a nice suite there for three days with all of our meals and drinks comped. Since we already were staying at the Rio and it was poker night, we unfortunately had to decline the nice offer.
After they paid us this Trippin-N-Vegas Jackpot we thought we had better send for the Rio limo to come over there and pick us up.
Since we now had all of this cash on us, we did not want to take any chances with walking around any longer. Our host there at the Mirage radioed the Rio to come and get us and on that note we then decided to work our way back to the front door with a security guard at our side, gambling on some of the slots as we went. The car and driver arrived and we tipped the security guard well and we were off, headed back to the Rio. The real party was just about to get started since we now had a few more dollars to spend. That is where the title of this story Trippin-N-Vegas comes from!
That night, we continued our Trippin-N-Vegas tour by checking out some of the other casinos around the strip. We went to Caesars Palace and to their "Forum Shops" which is basically, a gigantic shopping mall within itself where I was spoiled by my husband a little. We loved watching the skyline change as we walked through the "Forum Shops" area; it was like you were really outside with the domed ceiling changing from daylight to night. We also caught some of the statue shows, where the statues come alive at the "Fall of Atlantis and Festival Fountain shows".
The scenery around this casino was magnificent with the huge marble columns and the big Lion Statues that greeted you at the front. We also caught another show outside at the Treasure Island Casino that consisted of a ship and pirates battle. It was a Trippin-N-Vegas day and night that I will never forget. The best parts of this story have been left out as the saying goes, "What happens in Vegas, stays in Vegas", if you know what I mean! 😉
The next day the Gambling Gurus gambled all during the day, winning and losing, but keeping our money intact. We went out again that evening and caught the water fountain show at the Bellagio Hotel and Resort. If you have not had a chance to see this spectacular show, you need to make it a point to see; it is simply amazing how the water fountains react to the lights and music.
Later on that evening, my husband and I decided to check out one of the adult themed shows while we were Trippin-N-Vegas, so we ended up at Harrah's Casino and it was well worth it, we both enjoyed the show! The next day we had to head back home but our plane wasn't scheduled to leave till late that night, so we had all day to test the slots again. Once more, we managed to keep our money with a few small slot machine jackpots added to the mix.
It was then time to pack up and leave for the airport late that night. The drive to the airport was beautiful with all the lights and outside attractions all lit up in bright colorful neon. We had such a great time with the help of the Rio Resort staff and a little help from the Mirage Resort and Casino that we knew we would be going back and Trippin-N-Vegas again soon. Oh yea, our daughter had a nice 21st birthday trip too!