Million Dollar Guaranteed Tournament
32 New Seats For $1 Million Dollar Guaranteed Tournament Starting Sunday at Americas Cardroom!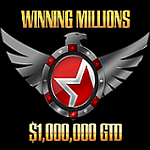 San Jose, Costa Rica – October 29, 2014 – Fall weekends are about to get way more exciting, now that one US online poker site is dropping an unparalleled number of Sunday million-dollar seats on the table.
Americas Cardroom today announced the addition of 32 guaranteed Winning Millions seats to the satellite schedule. The 32 seats are guaranteed in two separate Sunday tournaments, making it even easier for players to win a seat.
"Every weekend is now all about celebrating the Sunday Million Dollar Guaranteed Tournament," stated Michael Harris, spokesperson for Americas Cardroom.
"We're going to pack the Winning Millions tournament this December with a record number of players and give everyone a chance to play for a giant piece of $1 million."
Scheduled to get underway on December 14th, Winning Millions 'Million Dollar Guaranteed Tournament' is a Texas Hold'em tournament featuring a $1 million prize pool – the first of its size and scope since early 2011 for US sites. Poker players can buy directly in for $500+$40 or win their spot through a satellite.
Americas Cardroom has added two weekend tournaments that pay out a total of 32 Winning Millions seats. Every Sunday at 6:00pm, Americas Cardroom is hosting a $25+$2.50 buy-in tournament that pays out 25 seats to the $1 million Guaranteed event. The event will feature a number of players who have won their spot by ranking on the weekly Beast leaderboard, but all players are invited to buy into the tournament with cash.
Also on Sundays at 8:30pm ET, 7 seats are guaranteed through a $50+$5 Hold'em tournament. Earmarked for players who have ranked on the weekly Sit & Crush leaderboard, the tournament is also open to all players.
The additional 32 seats are on top of the already-packed Winning Millions satellite schedule, which features a number of daily events that feed into the nightly $100+$9 satellite. The 8:30pm tournament pays out at least one seat in the Winning Millions $1 Million Dollar Guaranteed Tournament on December 14th. Poker players can also win their spot in the nightly event for free every day through freerolls at 10:00am and 1:30pm. Each one guarantees three seats in the nightly tournament.
Also included on the schedule are daily 10:00am, 12:30pm and 1:20pm ET tournaments with $5 buy-ins that pay out a seat in the $100+$9 satellite. Players will also find $1+0.10 satellites at 3:15pm, 6:15pm and 7:00pm ET that feed into the same $100+$9 satellite. All six events offer rebuys and add-ons. For those who don't find a satellite that works for them, Americas Cardroom has also included Sit & Go's running constantly from as low as $24+1.20.
On November 12th, Americas Cardroom is hosting the 2nd edition of The Cage, a successful multi-table time-based cash game with a $5,000+$100 buy-in (satellites from as low as $1.65 are available). The tournament ends as soon as the clock hits 4 hours of play, regardless of how many players are left standing and each player chip stack will be converted into real cash. A PLO version of The Cage will also take place on November 26th at 8:00pm ET.
For more information on Winning Millions 'Million Dollar Guaranteed Tournament' and The Cage, visit AmericasCardroom.eu

More information on Americas Cardroom is available at AmericasCardroom.eu
About Americas Cardroom: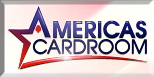 Americas Cardroom joined the Winning Poker Network in 2011. The Winning Poker Network has one of the longest and trusted online names in the industry and has been in existence since 2001.
Americas Cardroom accepts players from most of the US market and the rest of the world. Rated first place for payment processing and cashout reliability repeatedly in 2012 and 2013, Americas Cardroom offers outstanding customer service and a friendly environment for all poker players around the world.