Storming Las Vegas – The Jose Vigoa Story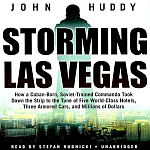 Every gambler's dream is to find that magic glide… that roll; ease off when the luck is bad and go balls to the wall when the Lady smiles!
We've all felt the pull, had a glimpse of Taking Down the House. We may have our local legends, and you may have read on here about some of the greatest of the greats when it comes to big balls, big bankrolls, and legendary exploits.
But any gambler knows that the odds of really catching a big wave in Vegas is more rare than winning the lottery – the big bucks. Read on for more on "Storming Las Vegas"…. (more…)