WizBet Casino Christmas Promotion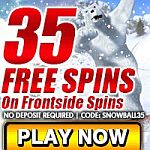 Make this one an extra jolly Festive Season — There's something special in Santa's bag of goodies this year and it's sure to make this festive season extra jolly! WizBet Casino is hosting a big holiday promotion with extra bells and whistles, the WizBet Casino Christmas Promotion!
The specially designed set of offers consists of gift boxes stuffed with amazing offers from November 20th to January 7th 2016. This promotion caters to players using either desktop or mobile devices.
The promotion offers free spins and match offers, that will be running over certain dates similar to an advent calendar. — Visit our  Festive Seasons Promotion Page here! (more…)